Beware of Imitations! – a genuine Icelandic horse must have a passport which shows its bloodlines can be traced back to horses in Iceland. Usually that passport will be from the IHSGB (or another national Icelandic horse society if the horse is not British-bred). All registered Icelandic horses are entered into WorldFengur, the international database of Icelandic horses (IHSGB members have free access to this database). If you are considering buying a horse or pony which has been advertised as an Icelandic and you are not sure of its breeding, please contact the IHSGB studbook for clarification.
For rehoming – Kara, £250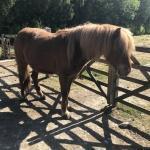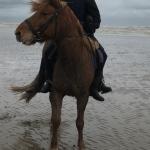 I am looking to rehome my Icelandic mare – Kara. She is 15 years, 13.2hh and 5 gaited. She has a very gentle, kind nature and can be ridden by anyone, young or old. She is totally bombproof, nothing phases this horse. She will give even the most nervous rider confidence. She is a fun, reliable, safe hack that will totally look after you. Kara has cushings, this is well controlled on half a tablet of Prascend, but she can have NO grass and so needs to go to a knowledgeable home with a large turnout yard with shelter. A good home is more important than money, hence I am only asking for a small rehoming fee. Contact
suemcknight@live.co.uk
.
---
Connegar Farm
Often has horses for sale, see www.connegarfarm.co.uk for more information or email jemimaha@hotmail.com.
---
Pentland Hills Icelandics
Pentland Hills Icelandics has run out of trained horses for now after a rush over the summer and fantastic new homes coming forward. Now we have youngsters growing up and they will be trained here at five and then ready to move on to a forever home. You can show interest now if you so wish.
Good reasons for buying from PHI are if you wish your horse to –
be trusting and trustworthy and to be friendly yet respectful
respond to light aids with calm confidence
be well balanced in mind and body
love exploring, hacking out and eager to learn different activities
have good easy gaits
thrive in a healthy robust environment
be calm and easy in traffic, boxing, shoeing, catching and on meeting most scary things on farm
We are very careful about where our horses land and so be prepared for many questions first!  If your circumstances change, we ask that the horse is offered back to protect its future.
Contact: Jill and Paula ++44 (0)7836729988, jnoble@phicelandics.co.uk or see us on the PHI Facebook page
Pentland Hills Icelandics, Windy Gowl Farm, Carlops EH269NL
---
 AC Icelandic Horses
We have a selection of horses for sale – please contact us for further details / information at hestamennskagb@gmail.com
http://www.acicelandichorses.co.uk/sales.html
---
Ljúfur from Etal Rhodes G2010112031

Ljúfur is a nice, fun gelding with great personality. 7 years old, black, happy to be ridden out, in the school, on his own and in company. Good with the farrier and most of what life throws at him! He'd make a good fun gelding for someone who wants to bring a young horse a long way! Plenty of tölt and forward thinking.
For more information and video see http://www.acicelandichorses.co.uk/sales.html or contact hestamennskagb@gmail.com.
Advertising here is free for IHSGB members, or £10 per horse per month for non-members. Please fill out an
order form
and email details and photographs to website@ihsgb.co.uk or communications@ihsgb.co.uk – non-members will be sent a Paypal invoice