Advertising here is free for IHSGB members, or £20 per horse per month for non-members. Please email details and photographs to Mic, website@ihsgb.co.uk – non-members will be sent a Paypal invoice
Beware of Imitations! – a genuine Icelandic horse must have a passport which shows its bloodlines can be traced back to horses in Iceland. Usually that passport will be from the IHSGB (or another national Icelandic horse society if the horse is not British-bred). All registered Icelandic horses are entered into WorldFengur, the international database of Icelandic horses (IHSGB members have free access to this database). If you are considering buying a horse or pony which has been advertised as an Icelandic and you are not sure of its breeding, please contact the IHSGB studbook for clarification.
Horses for Sale/Loan/Wanted
Glofaxi from Salisbury GB2004161003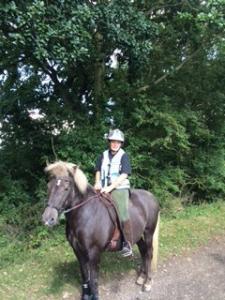 Bo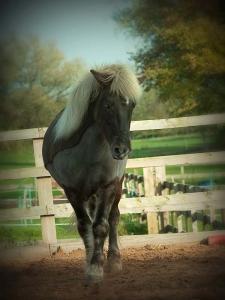 rn 16.6.2004. 5 gaited. Silver dapple.  Same home 8 years!! Probably the sweetest, kindest Icelandic in the world. This is the saddest decision. For sale through no fault of his own, after much soul searching, purely down to change of family circumstances and ill health, Glofaxi (Glowey) will make his new family a wonderful addition. Excellent in all ways: to clip (including head), comes to call, most traffic (with me onboard he's not keen on big farm traffic but with my confident daughter he's ok), to tack up, shoe, bath, spray, lead, tie up, stable, rug – everything. Just so easy going. Hacks alone and in company. Super tolt machine. He steps out, ears pricked, always willing. He looks at things sometimes but rarely makes a fuss. He has a butter soft mouth – snaffle – and is forward going. Brave and alert. Has the Icelandic spirit and manners to burn from the ground. Practically anyone can handle him. Polite and gentle. No stable vices. Beautifully silver dapple. Glowey has been a massive part of our family for over 8 years. We know him inside out. I am a nervous rider but he behaves well in most circumstances you can expect a horse to do. Attended a few Icelandic shows (they're always so far from us) and done a bit of Trec. Has done pleasure rides. Recently won the Pure Breed Class in hand at a local show and was a favourite with everyone there as he was impeccably behaved. He loves people and a fuss. Good with other horses and likes to be with a mare. He is sensitive and not suitable for a beginner or someone nervous or inexperienced with Icelandic horses. He is a great character and sometimes (rarely) of late – because I think he's out of practice – has napped if he thinks he knows better. Like not going into the sea. He just sometimes needs a firm hand to show him he doesn't always know best! Some schooling would benefit I'm sure. I want an experienced, kind, horsey home for him. Not a shouty home. And his new home is more important than price. No one over 12 stone please and preferably less. I would like to keep in touch and would like a first refusal on him as I need to know he will always be safe and have the safety net of coming home. He is too good to be the field ornament he has become. Vaccinated and wormed up to date. Freeze marked. Bridle and rugs included. New home/owner will be vetted. No time wasters please as this is a heartbreaking decision. No lwvtb. No canvassers. Price is set to help us have a wider choice and doesn't reflect the quality of the horse. £3250.00. Enquiries to Tracy Whybrow at falabellas@btinternet.com or mobile 0771 331 4444. East Riding of Yorkshire (near Hornsea between Beverley and Hull)
Kria from Witchampton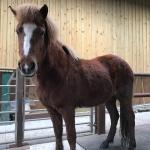 After a lot of thought, we have decided to offer Kria as a companion horse. We would love her to go to a 5* home, maybe an existing Icelandic horse owner or someone within the society. She has been started, ridden alone and in company but we are unable to sell her on as a riding horse. She is friendly to handle, confident on the ground, likes people, easy to catch, good manners etc. but when ridden she can be very jumpy. We would love her to have a chance to work with a person, doing something from the ground such as 'handy horse', or in hand showing but we just get the feeling that she may not get used to being ridden. Those who know us will know that we are 100% genuine and that the horse is otherwise healthy and well. For more information contact jemimaha@hotmail.com.
Yearlings
Assorted 2016 yearlings for sale now to kind, knowledgeable homes only. All by Valentino vom Vindstaðir out of well-bred mares with excellent temperaments. All have full IHSGB passports and have had their flu and tetanus vaccinations. Colts and fillies, all regularly wormed and foot trimmed, and ok to handle.  Please contact Mic (mic@solva-icelandics.co.uk) for further details.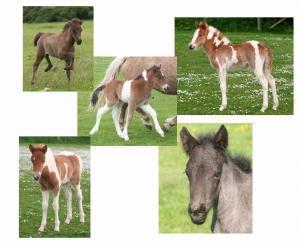 Hilda frá Efri-Rauðalæk IS2008264495
Rising 9 year old, nicely proportioned five gaited mare, that carries her rider well. Bags of tolt, but also ground gaits as well as a good pace should you want to use it! She is quite willing, sensitive to weight and seat aids and nicely sensitive to the leg, happy, brave and could tolt all day! Blup 107 with good breeding – Will make a really fun riding horse or maybe even a pace event horse! For more information, see www.connegarfarm.co.uk or contact jemimaha@hotmail.com.
Fábeina GB2012212015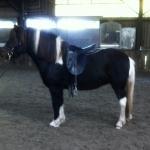 Black pinto mare for sale. Currently training under saddle and very easy nature. Easy to handle and has been good to shoe, take out and about, box etc. We are open to sensible offers for this nice mare. Contact Kirsty and Frank, carson@andrewcarson677.orangehome.co.uk.
Gjuki from Ardechive GB2003102023
14 year old gelding. This lovely boy is reluctantly for sale – his lovely temperament makes him the golden retriever of the equine world. Big, bold and sensitive. I call him my Pocket Rocket! Forward going and fast! If you like speed then this is the boy for you. He is vaccinated, wormed and passport up to date. He goes barefoot. Easy to tolt and has a surprising range of speed in tolt. His smart walk makes him easy to get and keep fit. Currently going very well in a myler combination, light in the hand. Lives in a mixed herd including llamas and alpacas. Good to box, farrier, vet, catch and handle. Affectionate. No sweet itch. Gjuki is a great fun and comfortable ride but not for a novice. He would suit an experienced rider who likes and can handle a forward going/fast horse. He needs regular work and likes parties; would do well at endurance or trec with a confident rider. £3500 ono. Contact 07790268556 in West Dorset to view.
Fönix GB2011112001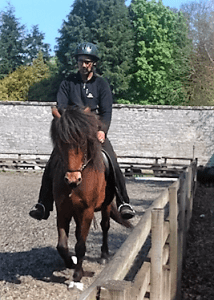 5 year old bay gelding for sale on behalf of owner. He has been started under saddle this year. Responding well to most aspects of basic training, schooling and riding out.  Needs a confident rider to now take him further, build a relationship with him and continue his training. Easy to box, shoe and has been ridden out in traffic, he is also a very good hand horse.  Like most young horses, he needs confidence from his rider and more time given to him to develop further.  He shows 4 clean gaits.  A great project for someone with time to give to him. For more details or to arrange to visit, please contact: Kirsty and Frank, carson@andrewcarson677.orangehome.co.uk.
Venja fra Grund
9 year old 13.1 chestnut mare. Venja is 5 gaited with super tolt and pace. I imported her from Iceland 3 years ago with the hope of competing her in the future. Sadly we just haven't clicked in the way I had hoped and I have come to the very hard decision to part with her. She will hack alone and in company, she is good in traffic and used to tractors and dogs, shoe, load and have rugs changed. She can be a little tricky to catch in the field but improves as she gets to know you. She is currently in Wales where she can be viewed. Venja needs a quiet, confident and understanding rider. She is a sharp and powerful little horse but bags of fun for the right rider. She has a lot to offer and will bring a lot of joy to the right person. Venja does suffer from sweetitch. This is a really difficult sale and I'll be truly sorry to say goodbye but she deserves to be having fun. Reduced to sell at £4000. Please contact Cornelia on 07715567987 or Smari Slater on 07787336135.
GB2015164005 Bakkus from Aruwimi
Tall bay colt, born 2015. No markings with very long legs and already lots of mane. Bakkus shows all 5 gaits with wide movement, but prefers tolt. His sire is Dropi out of Bubba, and he has a Blup of 105. He will be a tall and handsome boy one day with a very good character since he is already good to handle, he leads and loads easily with a horse in front of him, is good with the farrier and has a very sweet personality and is curious and playful. He is growing up in our herd with other colts and geldings of all ages. 5 star home only, ideally with Icelandic's for company, or he can stay here in Surrey at livery until he is older. Delivery can be arranged at cost. Contact kmc@furzehillplace.co.uk
Ljúfur from Etal Rhodes G2010112031
Ljúfur is a nice, fun gelding with great personality. 7 years old, black, happy to be ridden out, in the school, on his own and in company. Good with the farrier and most of what life throws at him! He'd make a good fun gelding for someone who wants to bring a young horse a long way! Plenty of tölt and forward thinking. For more information and video see http://www.acicelandichorses.co.uk/sales.html or contact carson@andrewcarson677.orangehome.co.uk.

AN ASSORTMENT OF FANTASTIC ICELANDIC HORSES COMING UP AND FOR SALE!
Mostly by our precious now deceased Isak fra Efri-Brunavollum, sire the famous Markus fra Langholsparti, this group of young horses have the very best of temperaments, amazing high clear gaits and beautiful varied colours. They are making easy versatile riding horses to suit all types of riders. You can book your horse now and we will taper the training to suit your experience and requirements whether it be for competition, endurance, dressage or just a willing responsive pleasure horse. We care and we want a happy long relationship for you both and will help after sale for as long as you want. No sweet itch, healthily reared and trained with kindness. A horse for life. For more details call Jill on +44 (0) 7836 729988, www.phicelandics.co.uk or FB photos.