Advertising here is free for IHSGB members, or £10 per horse per month for non-members. Please fill out an
order form
and email details and photographs to website@ihsgb.co.uk or communications@ihsgb.co.uk – non-members will be sent a Paypal invoice
Beware of Imitations! – a genuine Icelandic horse must have a passport which shows its bloodlines can be traced back to horses in Iceland. Usually that passport will be from the IHSGB (or another national Icelandic horse society if the horse is not British-bred). All registered Icelandic horses are entered into WorldFengur, the international database of Icelandic horses (IHSGB members have free access to this database). If you are considering buying a horse or pony which has been advertised as an Icelandic and you are not sure of its breeding, please contact the IHSGB studbook for clarification.
Horses for Sale/Loan/Wanted
Orka
She is a beautiful red mare (with white flecks all over her body sometimes giving a silvery appearance, and with a star), born in 2010 and now trained and ready to move on.  She was born and reared here and we take time in training all our own horses properly when they are mentally and physically ready. This is usually between 5 and 6 years old.  We can give you a full history in photos. To handle she is easy in every way and has seen traffic, livestock, all farmy flappy things etc and she boxes, catches and shoes easily.  She is keen when she hacks out across the countryside and loves to lead!  She is very well mannered, intelligent and answers to the lightest of aids.  Her gaits are all easy and clear and recently she has found very fast pace although we don't encourage this too much due to the terrain here.  Trot and tolt are easy to find.  Orka has a strong build and is a good size.  She has a lovely head with big kind dark eyes. She will make a lovely horse to hack out on and the further the better as far as she is concerned! No sweet itch and never had a health problem. She would also make a good quality brood mare with some rare colour genes in her makeup.  Her dam is a beautiful silver dapple.  £5200.00. Contact Jill on jnoble@phicelandics.co.uk. Website: phicelandics.co.uk     Mobile: 07836729988
Pudra
This jet black little mare with a distinctive snip is very sweet and loving.  She is smaller than Orka but strong enough.  She was born here in 2011, reared with her peers and has been brought on slowly. Much of the above description is the same for her except that she isn't quite as far trained as Orka. We think she will suit an experienced child or light adult and would make a lovely family horse along with another.  Again she is well bred by the same stallion as Orka  (Isak fra Efri Brunavollum) and is an honest wee horse.  She is always very keen to please and just needs a little more training before suiting a smaller rider. No sweet itch. £4700.00. Contact Jill on jnoble@phicelandics.co.uk. Website: phicelandics.co.uk     Mobile: 07836729988
 AC Icelandic Horses
http://www.acicelandichorses.co.uk/sales.html
We have a selection of horses for sale – please contact us for further details / information at hestamennskagb@gmail.com
Ragnar from Solva GB2016134005
2016 colt by Valentino out of Melasol. Ragnar is a big brown boy with golden highlights. He is friendly, curious and fun, with plenty of tolt and good action. He has been regularly wormed and foot trimmed, and is good to handle.  For sale to a kind, knowledgeable home only – or he can stay here to grow up naturally in the herd. Please contact Mic (mic@solva-icelandics.co.uk) for further details.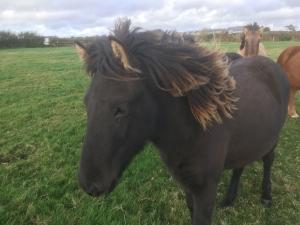 GB2015164005 Bakkus from Aruwimi
Tall bay colt, born 2015. No markings with very long legs and already lots of mane. Bakkus shows all 5 gaits with wide movement, but prefers tolt. His sire is Dropi out of Bubba, and he has a Blup of 105. He will be a tall and handsome boy one day with a very good character since he is already good to handle, he leads and loads easily with a horse in front of him, is good with the farrier and has a very sweet personality and is curious and playful. He is growing up in our herd with other colts and geldings of all ages. 5 star home only, ideally with Icelandic's for company, or he can stay here in Surrey at livery until he is older. Delivery can be arranged at cost. Contact kmc@furzehillplace.co.uk
Ljúfur from Etal Rhodes G2010112031
Ljúfur is a nice, fun gelding with great personality. 7 years old, black, happy to be ridden out, in the school, on his own and in company. Good with the farrier and most of what life throws at him! He'd make a good fun gelding for someone who wants to bring a young horse a long way! Plenty of tölt and forward thinking. For more information and video see http://www.acicelandichorses.co.uk/sales.html or contact hestamennskagb@gmail.com.