SAVE THE DATE!!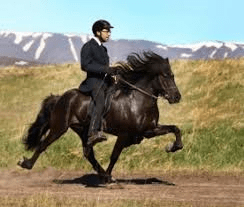 We are trying a different kind of event that may be new to some of you and would like lots of you to join in!  On the weekend of the Breeding Show in Dorset on the 27th/28th September we are also having a Gæðingakeppni.  A what?!   A ' Gæðingur' is a good Icelandic riding horse and a 'keppni' is a contest and this type of gait competition is the most popular in Iceland.  In a nutshell it is more about the spirit, power and willingness of the horse than the precision of the rider, although good horsemanship is essential of course. Like sport competition it is held on an oval track but is more freely ridden and gaits are judged only on the long sides. So you use the short sides to prepare to show your horse at its most glorious walk/ tolt/ trot/ canter on the long sides.
This will be a get-together for ALL and we expect it to be great fun for riders and spectators alike.  We are also going to have an Icelandic rider to demonstrate how the experts do it.
Further details and entry forms available now- keep an eye on the dedicated page on the IHSGB website here.