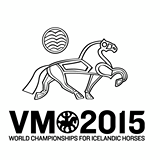 Calling all Icey Riders!
Icelandic horse riders from all over the world are invited to participate in this year's virtual ride "From here to  Herning". The concept is simple: starting on Nov 15, you begin to add together all the kms you ride out from home, and measure your virtual progress to Herning. Riders may go it alone, or – depending on the distance from home to Herning – form into teams which may add together all their kms of the team to make it to the destination. Once a month you submit the mileage you have covered and watch your progress – and that of all your fellow riders on the road.
There are only three easy steps, and you are part of an international ride towards the scream destination for summer 2015:  (a) calculate the distance from your home to Herning (use luftline.org); (b) register via https://here-to-herning.weebly.com/and (c) start riding!
And you might also want to join the fb group
here.