Over the last month, British riders have been competing in Europe at the 'Isicup' series in Sweden and Denmark. These are world ranking competitions where you can find many top riders – including past World Champions – and our own riders have been getting fantastic results; leading pace events and getting into A and B finals!
At Isicup, Margaretehof in Sweden, Charlotte Cook won the speed pace on Saela fra Þóreyjarnúpi with a fast time of 7.83 seconds! Mike Adams and Kafteinn fra Kommu also ran a speed pace time of 8.42s, which meant he ended in 9th place, just after Charlotte on Perla fra Skridu who ran a time of 8.27s (8th place). Charlotte was also 2nd and 4th in the 250m pace race on Perla and Saela! What an achievement! In the oval track events, James Faulkner rode to 7th position and secured a place in the B final of the Five gait with Leikur fra Bispegården. Charlotte also rode Svava fra Bakkeholm to 10th position in the T2!
At Isicup, Kjarni in Denmark, Jemimah Adams rode Kraftur fra Kvistum into 5th place in the Tolt T1, securing a place in the A final. She was also able to ride the B final in the Four Gait (V1) and managed to climb into second place, just missing a spot in the A final! Mike Adams and Kafteinn fra Kommu narrowly missed a place on the podium in the speed pace where he ended 6th with a time of 8.66 seconds. He also rode a great Five Gait (F1) test, which meant he was in 8th position overall. Charlotte Cook made herself a few new personal records in the Pace events, winning the speed pace on Perla frá Skriðu with a time of 7.85s! She also managed to finish in 2nd and 3rd position in the 250m Pace Race on Saela and Perla! Charlotte also rode Sol fra Bakkeholm into 7th position in the T2.
One of our youth riders, Sandy Carson took part in a separate competition at Margaretehof, Sweden and rode into the young riders A final and 5th position with Herkules fra Smingegarden!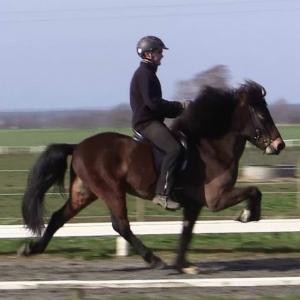 What a fantastic start to the season – Congratulations to you all!