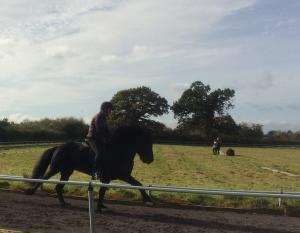 For those of you thinking of joining us to watch the GK and breeding show this weekend, here is an update regarding the plan for the weekend – The deadline for our breeding show and Gaedingakeppni weekend passed on Sunday, but unfortunately there were no entries for the breeding classes, so we have had to come up with a Plan B in order to avoid having to cancel the weekend.
We are now pleased to announce our new schedule: We will have one judge (Johannes Hoyos) instead of two, and we will now first take our judge to Wales for a Young Horse Assessment on Saturday (at Mic and then Smári) before traveling to Connegar Farm. There will be a riders meeting on Saturday evening for the GK.
You are all welcome to come and watch the GK competition which starts on Sunday morning at 8am. Refreshments will be available throughout the day.
We are currently working on a provisional timetable:
Sunday 9 October 2016
Events on the Oval track
08:00
10:00
Gæðingakeppni Have-a-Go
10:00
10:15
Gæðinga C
10:15
10:45
T7 Tölt
10:45
11:00
Children
11:00
11:15
3 of 4
11:15
12:15
Gæðinga B (4-gait)
12:15
Lunch
Events on the Pace track
13:15
13:30
Gæðinga A (5-gait)
13:30
13:45
Timed Trot
13:45
14:00
Timed Tölt
14:00
14:15
Timed Canter
14:15
14:30
Timed Pace
Sunday morning we will start with the Have-a-go Gaedinga, where Johannes will give tips and recommendations for riding horses in the Gaedinga classes. He will have a microphone, so it should be very informative for spectators as well. This is followed by the individual classes (T7, B and C Gaedinga, 3 out of 4) on the oval track. We will then take a lunch break before moving to the pace track for the timed runs. This year the Gaedinga A will also take place on the pace track, so after lunch we will start with Gaedinga A followed by the timed runs. The day will end with a prize giving!
The forecast is bright sunshine, let's keep the fingers crossed it stays like that. Any questions, please let us know. We will keep you up-to-date with our "work in progress".