Invitations to participate are now open for consideration of any young rider in IHSGB aged 14-17 years (born between 2001 and 2004).
FEIF International Youth Cup brings young riders together to take part in Icelandic sport – oval track competition, pace track, countryside riding, flag race, dressage and new for 2018, Tolt in Harmony.
Riders must be competent riders of all discipline and prepared to train hard, compete at top level competition, work hard, make new friends and have a whole lot of fun!
Team GB will have limited numbers of places available, but all applicants are welcomed and will be considered.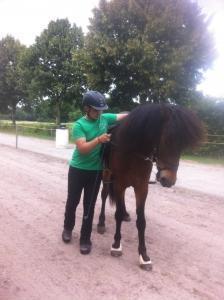 Applicants must:
Be aged 14 -17 years (born between 2001 and 2004)
Be a member of IHSGB
Send a short resume of your interests in Icelandic horses in GB, your achievements to date and sport results from 2017 season.
Please email youth@ihsgb.co.uk with all details and with your parent / guardians email address included.
Applications should be submitted by 30th January 2018.
Selection will then be made in good time, allowing time to get to know each other as a team, prepare and fund raise!
If you would like further information or to discuss in more detail, please do not hesitate to contact Kirsty at youth@ihsgb.co.uk