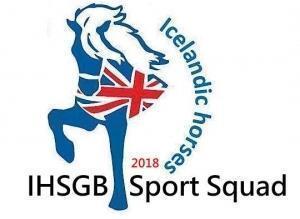 Collectively, the Sport Squad – to encourage performance, skill and understanding to attain high level sport performance at A, B and C sport.
Squad (noun)
– A small group of people having a particular task.
– A group of sports players from which a team is chosen.
At the beginning of 2017, IHSGB Sport Group introduced the concept of creating a 'Sport Squad' and had 13 riders nominated for inclusion.
Having used the last 12 months to work within the squad and develop further ideas, we are now rolling out the new look 'Sport Squad' for the next 12 months.
Anyone interested in becoming a member of the Sport Squad should submit a short resume of themselves made up of the following information:
• 12 months previous performance – Oval or pace track competitions that you took part in, classes AND results
• Why are you interested in joining the sport squad?
• Name your competition horse/s available to you for the 2018 season (name and ID no.)
• Do you have a particular focus of tests (i.e. pace disciplines, tölt only, 4 gait or 5 gait)?
• A current, short video of yourself riding a whole test, or part of a test, on a track, in a school or simply outside! Make sure you show some clear gaits and transitions.
All information submitted will be treated in confidence.
Riders must be 15 years or older (on 1st January 2018).
Horses should be 5 years or older (on 1st January 2018).
The Sport Squad will be made up of a 3 tier platform:
Sport C:
Those who wish to further their development as a sport rider, with support to improve performance, understanding and knowledge.
Sport B:
Those who have aspiration to further development their training and performance in sport with ambition of developing to attain higher performance in sport B and develop through to riding competitively in sport A.
Sport A:
Those who have attained the following in Sport A over a 12 month period prior to beginning of year:
T1, T2, V1 – 6.2
F1 – 6.0
PP1 – 6.0
P1 –
P2 – Below 8.5 seconds
(Please note: Not being on the A Squad does not restrict your ability to enter sport A in GB – however, most other FEIF countries have a minimum sport A result requirement, as will MEM 2018.)
Sport Squad Objective:
To support the missing links in the development to attain further progress.
• Assist in setting realistic goals
• Assist in setting a training plan: 6 months, 12 months
• Support the development of young horses perceived to have the ability to progress through B sport and beyond.
• Offering support – an open line to discuss all aspects of concerns.
• offer support in management of horse for competition.
• To assist in identifying events to perform at.
• Offer the keys to unlock further doors….
• All members of the squad will submit a performance record
• All members of the squad will have access to an online discussion group
• All will adhere to a privacy policy on the squad agreement
• Sport squad will be co-ordinated by Kirsty and Andrew on behalf of IHSGB sport group
The Sport Squad:
All squad members will be registered online with our team app and have access to:
• Discussion forums
• Training opportunities
• Support and advice (externally and internally)
• Team building events
The sport squad is NOT a focus on World Championship teams – it is focussed on assisting development of those interested in riding sport at all levels. The sport squad will give support from within, from those on all levels of competition.
Submission of application to (closing date for application 29.01.18):
hestamennskagb@gmail.com
Invitation to the general Sport Squad does not give any rights to selection to any National Team, selection to such is subject to compliance with published criteria by the IHSGB Sport Group (2018).
IHSGB Sport Group
sportgroup@ihsgb.co.uk