IHSGB SUMMER FESTIVAL and BRITISH CHAMPIONSHIPS, 15th – 17th June 2018
West Tarf, West Linton, Scotland
By kind invitation of Mr & Mrs Aitken
www.ihsgb.co.uk
Organised by:
 sportgroup@ihsgb.co.uk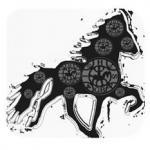 Before entries open online – the Sport Group are happy to offer a guide to the classes that will be available at the 2018 Summer Festival:
Non track events (almost!):
Dressage walk, trot, tölt test – this test is designed as an introduction to Icelandic horse dressage and is set each year as the same test (see link to töltonline to be added?)
FS1 – design your own dressage test
Track & Trail – a fun competition designed to show your skills over trail obstacles with your horse, followed by a round of trot or tölt on the track.  Combined – we find our T&T winner!
On the pace track:
PP1 – pace test
P2 – speedpass
On the oval track:
Sport A
T1, T2, V1, F1
Sport B
T3, V2, F2
Sport C
T7, T8, T6, V3, V5, F3
We will also be running our 'Team Test 2k18' element this year.  Each entry will be randomly placed in to a team.  On the first day of competition, teams will be announced and each team must produce a name……then your scores throughout the tournament will be added to your team overall points.  There will be team 'fun' events on Saturday evening (without horses) which will also contribute towards the overall team points.  A lot of fun to be had and support for your team mates a must!
2018 Summer Festival will run as a World Ranking event for A and B sport.
There will also be the added bonus of a second WR event on Friday for those wishing to gain WR scores.
We hope this helps with your training and preparations.  For full details of the tests and a guidance, please see FEIF Rules