Introducing you to the face behind the Icelandic horse laminitis questionnaire; Ruth Morgan. Ruth approached the IHSGB after our members had booked us in at Dick Vet for the IHSGB AGM. As part of the laminitis questionnaire, Ruth agreed to have a question and answer session. Please send your questions to communications@ihsgb.co.uk and we'll share plans for the Q&A session with members shortly!
Ruth Morgan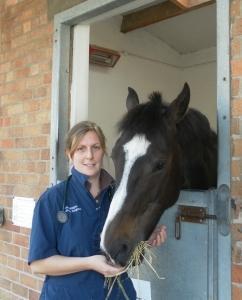 Ruth graduated from Cambridge University in 2006. Having spent 2.5 years in first opinion equine practice she undertook a residency in Equine Internal Medicine at the University of Liverpool during which time she gained her RCVS certificate. In 2012 she started a 4 year PhD in equine endocrinology at the University of Edinburgh focussing particularly on laminitis caused by Equine Cushing's Disease or Equine Metabolic Syndrome. In March 2013 she gained her diploma of the European College of Equine Internal Medicine. She completed her PhD in January 2015 and continues her research, funded by the Wellcome Trust, she also runs the Equine Endocrinology Clinic at the Royal (Dick) School of Veterinary Studies. Ruth is the lead researcher in in charge of the study into obesity and laminitis in Icelandic horses, you should have seen the questionnaire recently.
Ruth will be doing a question and answer session relating to all things endocrine so send us your questions! Anything you want to know about laminitis, obesity, diet, metabolic syndrome, Cushing's disease let us know.
Questionnaire is now closed.