Team GB had their most successful World Championships to date!
When returning from Oirschot 2017 with a Gold and Bronze medal, the Sport Group of IHSGB had to decide how to repeat or better this – was it possible? Berlin 2019 – 4 Silver medals! A truly wonderful performance from our '19 team. Congratulations to all the team members and support crew, you did it!
We had only 4 senior team members and 2 Young Riders meeting the selection criteria and were tagged 'small but fast' – this proved to be true!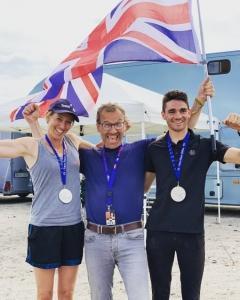 Charlotte Cook and her wonderful mare, Sæla frá Þóreyjarnúpi took the silver medal in both P1 (Pace Race) and P2 (Speedpass)
Aidan Carson (YR) and his horse, Óðinn from Inchree took the silver medal in both P1 (Pace Race) and P2 (Speedpass) for young riders
Óðinn was the only British bred horse in the team and the first British bred horse to win medals.
It was a good team performance from all our team members: Jemimah Adams in T2, V1, Nadine Kunkel T1, V1, Mike Adams T1, F1, PP1, P2 and Svenja Rumpf (YR) in T2, F1, PP1 and P2.
Congratulations to all team members, our Team Leader Baldvin Ari and all the grooms and support staff!Thank you to our sponsors: NAF, Far and Ride, Arius, Casco, Outdoor Functional Wear and Wessex Farrier Supplies and of course IHSGB. Most thanks go to IHSGB and the members – who supported the team from home and in the stands – the team were proud to represent you and happy to hear and read so many great comments!
We look forward to doing it all again in 2021…..Herning here we come!
All results for the World Championships can be found here: