A group of researchers from Hólar University, in collaboration with FEIF and the organization committee of the World Championships, conducted a research and data collection on the weight of riders and horses during the weekend before the official start of the event in Oirschot (August 3-6, 2023).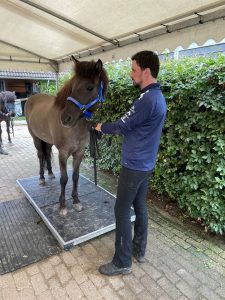 The aim of the research was to collect data on body weight of riders and horses competing at highest level in the Icelandic horse sports. The World Championships were the ideal place for this data collection as the best riders and horses from most of the FEIF countries came together and furthermore it is  an international competition in a standardized environment. The horses competing at the World Championships are healthy, in good body condition and fitness and performing intense exercise. It is therefore of great interest and valuable to measure and register the weight of the riders that these horses are carrying. Data on over 100 riders and horses were collected, and participants from all the 17 nations competing took part.
The next step now is to analyze the collected data, which will be done by Master student Johannes Amplatz under the supervision of Guðrún Jóhanna Stefánsdóttir. The results will then be published in a Master thesis and the aim is also to publish them in a peer-reviewed scientific article. The results will be introduced to the public through general media canals.
The research team would kindly like to remind the riders who took part in the study and have not yet answered the survey (CLICK HERE), to take about 10 minutes of their time to do so.
The research team would like to thank all riders who participated and is grateful for all the assistance of team-leaders, team-trainers, FEIF and the organization committee of the World Championships. Such research can only be performed as a collaboration of the Icelandic horse-community.