Registrar's Address
Please note the correct address to send Icelandic horse passports for alterations is: Freija Glansdorp, IHSGB Studbook Registrar, Sunny Lawn, Tweentown, Cheddar, BS27 3JE.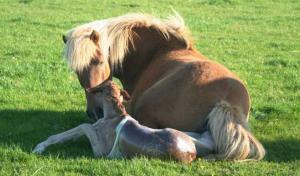 The IHSGB holds the definitive studbook of pure bred Icelandic horses in the UK. Please see the Studbook "How To" Guide for details on registration, change of ownerships, and everything else you need to know about the studbook. Click here for Studbook charges.
A horse is not a registered Icelandic unless it holds a passport from an Icelandic horse breed society such as the IHSGB or any other FEIF-recognised organisation. The IHSGB is a Passport Issuing Organisation, authorised by DEFRA. To be registered, horses must be able to trace their ancestry in an unbroken line back to Iceland. It is not possible to register part-bred Icelandics, and they cannot compete in competitions for Icelandic horses. The studbook of Icelandic horses in the UK is linked to WorldFengur, the international database of Icelandic horses worldwide. All IHSGB members have free access to this fascinating resource.
There are a number of breeders of Icelandic horses in the United Kingdom, and there are several good stallions in the country. Approximately 20 foals are born each year, with some being imported in utero in mares from Iceland and Europe.
The IHSGB organises breeding assessments for Icelandic horses in the UK, where horses are judged by a minimum of two judges against the international breed standard for Icelandic horses known as the FIZO. Horses are awarded marks out of 10 for conformation and rideability, and those with a mark of 8.00 or higher are known as First Prize horses. All results are held in WorldFengur. All stallions used for breeding should be assessed once they are trained to ride.
Young stallions must have proof of parentage by three-way DNA. Stallions must also have a vetting to ensure they are sound and fit for breeding with no hereditary faults – more details can be found in the Studbook "How To" Guide.
To find out more about Icelandic horse breeding, take a look at the FEIF Breeding pages.
Click here for the Studbook rules.
Click here to read all about what your IHSGB Breeding Team is up to!