Transfer of Ownership
To register a transfer of ownership, please use the transfer of ownership form; for more information see the Studbook "How To" Guide.
Advertising
Advertising here is free for IHSGB members, or £10 per horse per month for non-members. Please email details and photographs to website@ihsgb.co.uk or communications@ihsgb.co.uk - non-members will be sent a Paypal invoice
 Beware of Imitations! – a genuine Icelandic horse must have a passport which shows its bloodlines can be traced back to horses in Iceland. Usually that passport will be from the IHSGB (or another national Icelandic horse society if the horse is not British-bred). All registered Icelandic horses are entered into WorldFengur, the international database of Icelandic horses (IHSGB members have free access to this database). If you are considering buying a horse or pony which has been advertised as an Icelandic and you are not sure of its breeding, please contact the IHSGB studbook for clarification.
---
Inserted 18 November 2023
Appolló from Aruwimi
This gorgeous boy is looking for his new human.
Appolló is a 5 gaited and 5 year old dark chestnut with flaxen mane and tail. He has lots of tölt which he favours , but also shows good ground gaits. He would excel as a luxury riding horse, he is well bred and could definitely be brought on to compete if required.
He is nice and solid, he is more suited to a competent and patient rider familiar with Icelandics. He needs a patient and invested home who will enjoy doing the groundwork with him as he needs time to build confidence and trust with new people and otherwise can be sensitive.
He's been professionally rebacked by Robyn Philpott who has really enjoyed spending the time with him and has found him very rewarding. She is available to contact to discuss him.
He's got great feet, could go without shoes if preferred. Good with farrier, loading and traveling. Loves cuddles and scratches.
He is such a lovely boy, lovely to keep, with such a sweet personality. He will definitely be missed by us and we hope we can find him a lovely new home. More videos and photos available, just contact  Kathryn Wogan (07989 066934), or Robyn Philpott (she has over 200 to share in his short time with her 
).
Soley from Thordale
This one is looking for a new home. She is 4 in October 2023. In the last year she has done in hand showing, agility and long reining in walk only. She wears a saddle pad and girth with hanging stirrups. She is super friendly and did a lot of in hand work for the Yule Lads challenge. She travels in the lorry or the trailer, has been clipped (due to the very warm autumn here in Dorset). She has been in a field next to an A road and ignores all traffic. She is bitted in a mild snaffle. She respects electric fencing as long as you remember to turn it on.
I have details of BLUP if you are interested. For a GB bred horse she has good scores. She has shown walk trot tolt and canter while in the field – I thought I saw pace when she was looning around but I wasn't quick enough to get my camera out. She certainly doesn't piggy-pace. I have a video of her moving in the field and long reining. She is 13.2 at the moment but her rump has risen above her wither – she is definitely still growing.
Feel free to contact me  by email or phone – but I am unable to answer the phone if I am at work – please leave a message. 07949 123 564 or
tararodda01@gmail.com
Price – lets discuss it – i am looking for the perfect home for her.
PENTLAND HILLS ICELANDICS, WINDY GOWL FARM
with over 30 years experience in all aspects of Icelandic horses
Horses for sale – breeding –  training – livery – retirement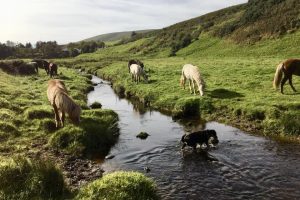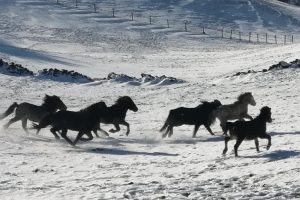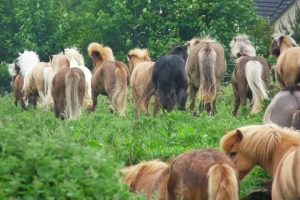 Our horses are carefully trained with understanding and with consideration to give their unforced best and to enjoy their work.
We are delighted to welcome in 2022 with over 50 Icelandic horses including two stallions, various horses ready for sale and in training, brood mares and growing youngsters, and with a large enthusiastic and active group of Icelandic horse liveries.
On the farm there is plenty of space in sheltered secluded fields for retired oldies who have given their everything and are now happy to live out their twilight years with a few old friends wanting for nothing and at peace with the world, and we pride in taking great care of them all.
For details contact: Jill and Paula ++44 (0)7836729988, email  jnoble@phicelandics.co.uk or see us on Pentland Hills Icelandics FB page