Join Our Icelandic Horse Society of Great Britain Weather Lottery for Your Chance to Win £25,000!


How You Help by Playing Your IHSGB Weather Lottery
Please join our IHSGB lottery to help raise funds for our society and support Education, Youth and Sport.
The IHSGB exists to maintain the purity of the Icelandic horse breed, to promote interest and protect the welfare of the breed, and to encourage Icelandic horse breeding and sport competitions.
The IHSGB has members all over Great Britain and there are training courses, pleasure rides, competitions and social events held all over the country. Junior members have their own events and can take part in several international events organised by FEIF.
Good Luck to all players!
How Your IHSGB Weather Lottery Works
Each entry is just £1 per week. When you join, we'll send you a unique 6-digit Lucky Number for each entry you take and enter it in the lottery draw each week.
The Weather Lottery results are based on the last digit of the Fahrenheit temperature forecast for six European destinations, as published in the Daily Mail newspaper each Monday.
Example: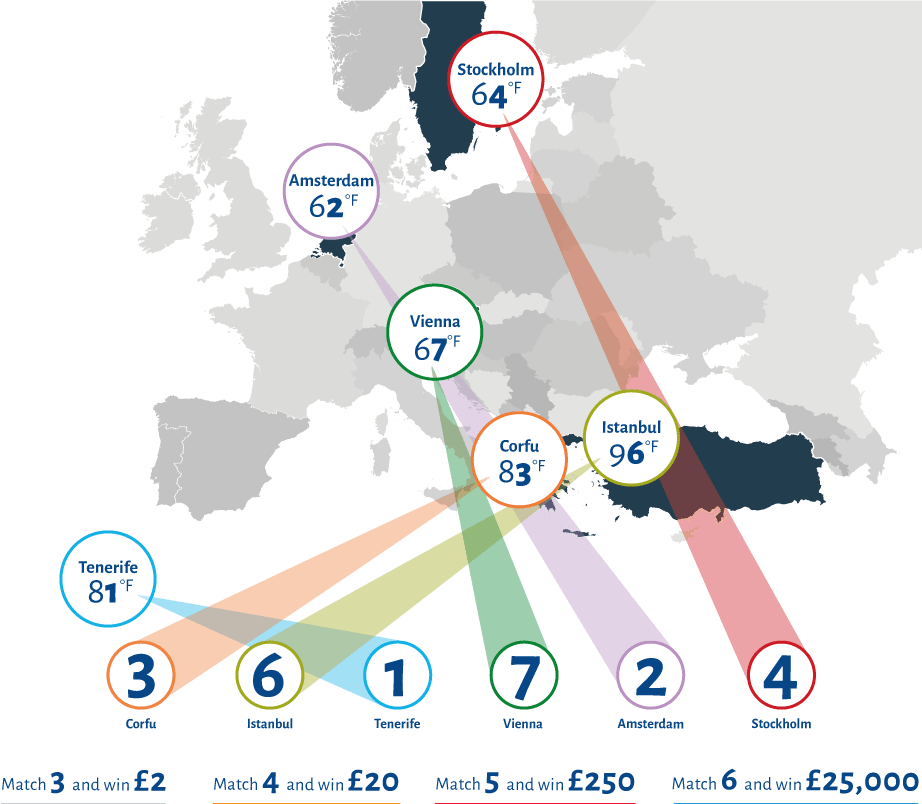 IHSGB Weather Lottery Prizes
To win a prize you must match at least three numbers in the right order.
So, if your number was: 9-6-1-0-2-9, you would have matched 3 numbers in the example above.
●     Match 3 numbers and win £2
●     Match 4 numbers and win £20
●     Match 5 numbers and win £250
●     Match 6 numbers and win £25,000
If you match all 6, you win £25,000 guaranteed – no sharing the jackpot!
Check the Weather Lottery Results Every Week to see if you're a Winner with the IHSGB
To make it as easy as possible for you, you can visit this page every week and check the results for the most recent draw at the top of the page. Alternatively, the results will be published on the Weather Lottery's Twitter account, and Facebook page and you can check the results directly in the newspaper each Monday to see if you're a winner.
To see previous Weather Lottery draw results, check the main Weather Lottery Results page.
Receiving Your IHSGB Weather Lottery Prize
If you're a winner, prize cheques will automatically be sent to the address you registered when you joined – no need to make a claim, a cheque will be sent directly to you within 30 days of the draw taking place.
If you move house, you can let us know by calling 0115 888 1 222 or e-mailing admin@theweatherlottery.com.
Join our IHSGB Weather Lottery Now
Click the button below to join via direct debit. Each line costs £1 per week, £4.34 per month as some months have 5 draws.

Terms and Conditions
This Weather Lottery is administered by Prize Provision Service Ltd who are licensed by the Gambling Commission as an External Lottery Manager. For full terms and conditions click here.